Massage course in English - 5x
Info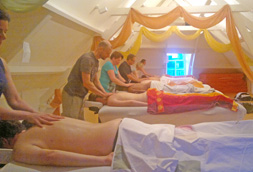 Massage course for beginners
In this massage course in English, you will learn:
– how to give a massage without getting tired
– getting a better grip on your massage techniques
– how you can massage without getting any pain in your back, shoulder or hands.
– how you handle muscle knots and how you treat them.
During the massage course for beginners you will learn more than fifty massage techniques. In addition to the techniques, we will teach you how to best use them. How much pressure do you put in a technique and in what order do you apply them. Because you learn a lot of different techniques you can give a nice, varied and total body massage.
Theory about massage
During the massage course in English we also teach you about the theory of massaging. We treat the contraindications (when you don't massage), which massage oil is the best for a relaxation massage, what should I look for when buying a massage table and so on.
There is also sufficient space to ask questions to the trainer and assistant.
More info click here.