Massage course in English - 5x
Info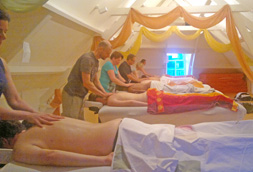 In this course you will:
Learn fifty massage techniques
Give a full body massage
Recieve a comprehensive manual in English (pdf)
Acquire useful tips & tricks
Recieve a certificate of participation
Massage and being massaged
Treat muscle nodes
Massage course for Beginners
The Massage Course for Beginners teaches you how to give a relaxing full body massage. You will learn various classical hands-on massage techniques which help relax the recipient both physically as well as mentally.
The lessons also include a theoretical component in order to substantiate the massage and the techniques used. An important part of the course is the extra attention paid to specific key points and some handy massage tips and tricks.
The course material will be explained in sections, giving you ample time in-between to practice with the assistance of a trainer. This is the most effective way to learn how to massage.
By the end of the course, equipped with these techniques, knowledge, and practice, you will be able to give a varied, full body relaxation massage.
More info click here.