Peacedance! Sacred Edition
Info
Begeleiding:
Laura, Ganesh, Brigitta, DJ René
Kosten:
€ 15 incl. hapjes en drankjes.
Datum:
Fri 07/07 20:00

to

Sat 08/07 00:00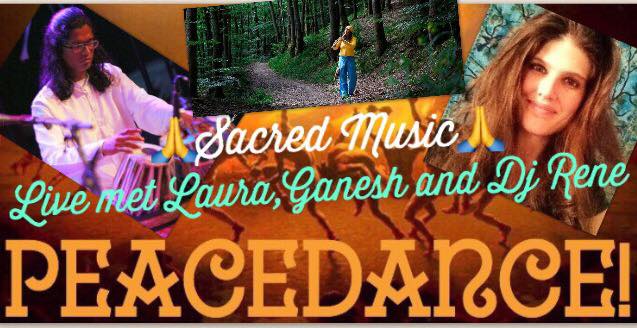 PeaceDance! is een snel groeiend dansevenement wat staat voor een open vreugdevolle sfeer waarin ieder zichzelf mag zijn en kan genieten van dans in vreugde en verbondenheid.
De avond staat in het teken van Sacred live muziek en DJ. Speciale gasten zijn: Laura van de Craats (zang, gitaar) en Ganesh Ramnath (Indiase percussie en zang).
Laura van de Craats is singer songwriter en omschrijft haar muziek als 'klanken en teksten, toegewijd aan het Hart '. Zij is geïnspireerd door mantra's en muziek gericht op liefde in eenheid. Een voorbeeld van haar muziek is te vinden via de link https://soundcloud.com/laura-van-de-craats/dounia
Deze avond speelt zij met Ganesh Ramnath. Hij treedt regelmatig in diverse gezelschappen op en zal onder andere Tabla (Indiase percussie) en Indiase zang inbrengen. Brigitta speelt mee op fluit.
De meditatie begint met een deel liggend of zittend luisteren en er is gelegenheid om het tweede deel van het concert mee te zingen.
Aansluitend Dj Rene met de lekkerste dansmuziek aan elkaar gemixt van Ambient, Tribal, Afro, World, Funky, Jazzy, Dub, Reggea tot aan Mantra's. 
Concert:  20.00 uur.
DJ: 21.15 uur - 24.00 uur.