Praten met je Lichaam
Info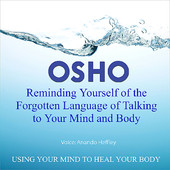 Een meditatieve therapie waarin je leert vriendschap te sluiten met je lichaam. Het is heel ontspannen. Je hoeft alleen maar te luisteren naar de stem die je suggesties geeft om je onderbewuste aan te spreken. Op deze manier kunnen pijntjes verdwijnen; en gewoontes waar je niet blij mee bent kunnen veranderen.
"OSHO Reminding Yourself of the Forgotten Language of Talking to the BodyMind"
Is een cursus waarop je in diepe ontspanning leert communiceren met je lichaam, mind en ziel. Je leert vriendschap te sluiten met je lichaam.
Via een geleide meditatie kom je in contact met je onderbewuste. Door je onderbewuste aan te spreken kunnen lichamelijke kwaaltjes, angsten en gedragspatronen veranderen of verdwijnen.
"Zoals het nu is, luister dan als je merkt dat je lichaam, je mind en je hart in disharmonie zijn, allereerst naar het lichaam.......   Het lichaam heeft zijn eigen wijsheid en het lichaam is niet bedorven door de priesters; het lichaam is niet bedorven door je leraren, door je onderwijs, door je ouders. Begin met het lichaam, want op dit moment is het lichaam het meest zuivere in je. Dus als het hart en de mind ertegenin gaan, laat ze dan maar. Jij blijft het lichaam volgen. Het lichaam is de eerste harmonie en je (innerlijke) wezen is de laatste. Het gevecht is altijd tussen hart en hoofd. Het lichaam en je wezen zijn nooit in conflict – ze zijn allebei natuurlijk. Het lichaam is zichtbare natuur en je wezen is onzichtbare natuur, maar het zijn delen van één fenomeen......." OSHO
Deze cursus wordt gegeven op zeven achtereenvolgende dagen of in overleg 3, 2 en 2 dagen achtereen (1 uur per dag).